We have 1 training stall currently available. Please inquire for more information 540-661-6069.
.01
about debbie
Debbie's formal training began in 1973, in England with Jenny Loriston Clarke, where she gained considerable experience riding, teaching, competing, and managing breeding stock. Debbie credits Ms. Loriston Clarke for instilling in her the solid work ethic that she still adheres to today and fondly shares that it was "Jenny who taught me that every horse deserves the same quality of care – whether the horse is an Olympic horse or not."
Debbie moved to Germany in 1975 and worked the next two years training at stables in Hamburg and Sylt.
During the period 1977 to 1981, Debbie sought out further training for herself and worked with Karin Schlüter. Karin was an excellent role model and inspired Debbie to emulate Karin's beautiful and graceful style. Debbie became the first American licensed German FN Bereiter while apprenticing with Karin Schlüter, and she earned her license to compete through S level.
During her last year in Germany, Debbie apprenticed with the late Reitmeister Herbert Rehbein. Mr. Rehbein provided Debbie with her first insight into the possibility that people could truly get into the psyche of the horse they were riding. It was a wonderful experience to watch this truly magnificent rider in his daily training. He artfully demonstrated that a rider must be able to adapt the training with each horse's state of mind and understanding in the forefront. This talent allowed him to become one with the horse.
Debbie returned to the United States in 1982 and accepted a position as Trainer at European Performance Horses, Ltd. in Somerset, Virginia. For the next four years, Debbie produced many national champion dressage horses from fourth level up to Grand Prix, including most notably, Falstaff.
She also continued honing her skills by receiving coaching from Dr. Reiner Klimke and George Theodorescu. Riding Falstaff, Debbie was selected as an alternate for the 1984 Olympic Games and won a team gold medal at the North American Championships in 1985. She was short-listed for the 1986 World Championships, now called the World Equestrian Games, when Falstaff was sold.
Since 1986, Debbie has worked independently and has continued to produce nationally successful horses including Belvedere, Ladamo, Othello, and Ron Falero. She has ridden several times in the USDF National Symposium or Trainer's Conference with such greats as Jaap Pott of Holland, Major Anders Lindgren of Sweden, Wolfgang Niggli of Switzerland, Kyra Kyrklund, Lilo Fore, and Michael Poulin.
Debbie is active with the United States Dressage Federation, and since 1991 she has served as Examiner of the USDF Instructor Certification Program. She was appointed Chair of the USDF Junior and Young Rider Program for two years (1995-1997) and also completed the USDF "L" Judges Program with distinction in 1998.
For more than thirty years, Debbie has consistently produced top level horses and riders, coaching many riders up to the Grand Prix level and FEI Junior/Young Riders. She continues to dedicated herself to developing the next generation of knowledgeable, sensitive, and educated riders and trainers, who will carry on the traditions of classical dressage.
ABOUT the farm
Debbie Bowman Dressage is now located at Spyder Lake Farm, a private estate in central Virginia between the towns of Orange and Gordonsville. The facility boasts 10 stalls, lighted indoor arena with mirrors, lighted outdoor arena, round pen, turnout, and miles of groomed trails. The setting is serene and pastoral, ideal for the serious student who wishes to be able to learn in an environment with minimal distractions. Our facility allows for both short and long-term stays, perfect for show preparation, USDF CI mentoring, or more in-depth education for horse and rider. Guests are welcome by appointment only, please.
lessons
Debbie is a sincere and sensitive educator who presents concepts to her students through a combination of riding theory, demonstration, and her unique ability to present gymnastic exercises that help create success in the training and show arena. The horse and rider partnership develops and thrives through this systematic approach. Debbie strives toward ensuring that her students gain both a theoretical understanding of the training process and goals, but more importantly, she helps them to realize how the desired results should feel.
Her student base includes dressage, event, and jumper riders of all levels and ages, amateurs as well as professionals. No matter what level the rider or horse, each student is met with enthusiasm and a genuine desire to cultivate their maximum potential. Debbie's broad base of experience gives her the capacity to present ideas in fresh and meaningful ways for each student. Private lessons are available year round by appointment at our farm. Please call to schedule: 540-661-6069.
$85 -- 45 minute trailer-in lesson
Lessons canceled within less than 24 hours are charged in full.

training
Select horses are accepted for training at our farm. Short-term training stays are also available. For more information about training, please contact us.
$1,800 -- Full board & training, per month
clinics
Debbie is available to provide clinics at your location, up to 100 miles. Greater distances incur a fee. She currently has several regular clinic locations throughout Virginia and other locations nationally. For more information about hosting a clinic, please contact us.
$1,000 -- Full day: ten 45-minute lessons
$400+ -- Partial day: four 45-minute lessons, minimum
Shows
$100 -- Coaching, per day
.03
sales
Horses may be seen by appointment. For information, please contact Debbie at 540-661-6069.
2007 Oldenburg NA gelding
Royal Appearance - Ultra Violet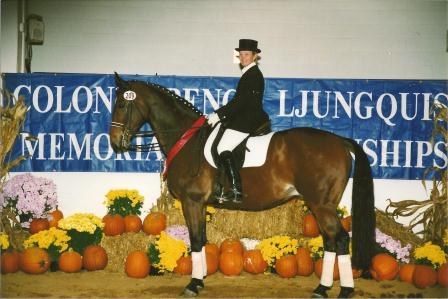 Looking for more information regarding lessons, clinics, training or sales? We look forward to hearing from you!
Directions
18409 Boris Walk, Orange VA 22960.
From I-64/Charlottesville/Pantops area:
Follow US 250 E toward Shadwell and turn left onto Rt 22 E. Continue for about 5 miles and stay straight onto Rt 231 at Cismont for 9.6 miles. At the traffic circle in Gordonsville, take the first exit onto Rt 15 N. Go 4.7 miles and turn right onto Madison Run Rd. Go 2.9 miles and at the stop sign turn left onto Rt 643. Go 0.8 miles and turn right onto Rt 638. Continue 2.9 miles to Boris Walk and the farm entrance on the right.
From Orange:
Take Rt 15 S out of Orange and turn left on Madison Run Rd. Go 2.9 miles and at the stop sign turn left onto Rt 643. Go 0.8 miles and turn right onto Rt 638. Continue 2.9 miles to Boris Walk and the farm entrance on the right.